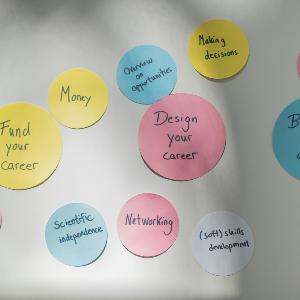 #EXCELLerate. LMU Postdoc Career Days
In May 2022, the LMU postdocs event series will be held to provide information and allow for discussion on various career topics – from career planning to funding issues and work-life balance.
EXCELLerate your career! Extensive information and workshop program
LMU offers researchers excellent general conditions to develop their careers. Right after a doctorate, graduates often have very fundamental questions: Which career path fits best, and what steps do I need to take for reaching my goals? How can I become a professor? Which funding schemes are a good fit and how do I write a competitive proposal? How can I shape my career inside or outside academia? And how can I maintain a healthy work-life balance?
At our Career Days 2022, we offer LMU postdocs an extensive program of lectures and workshops. Funding opportunities, academic and non-academic careers as well as work-life balance issues will be addressed and discussed extensively. The events will be held mostly in English and online. The proposal workshops are also open to postdoctoral candidates from other institutions if they would like to transfer to LMU after submitting a successful proposal and are already in contact with a host at LMU.
LMU creates an environment that allows Postdocs to fully unfold their potentials and fosters individual career development. #EXCELLerate is designed to support Postdocs in shaping their professional profile, unleashing their talents while reconciling these ambitions with private responsibilities. Our aim is to empower you in your future decisions.
Prof. Dr. Hans van Ess, Vice President for research