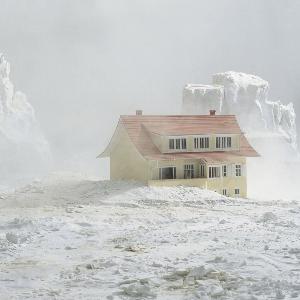 A 2001 work entitled "Shining" is the centerpiece of this exhibition at LMU's Center for Advanced Studies (CAS). It depicts Stephan Huber's parental home: a pale yellow house set in a gray-white landscape of snow and ice.
The house provides the framework for a fictitious tour set in the years 1960 through 1965 – a tour that, in a vividly abstract form, is mapped onto the rooms of the CAS, which now appear as a map room, a library and a playroom, for example. Works from an extensive period from 1981 to 2022 are on display.
Stephan Huber, a sculptor and painter, studied at the Akademie der Bildenden Künste, AdBK (Academy of Fine Arts) in Munich, where he later served as a professor. He lives and works in Munich and Ostallgäu.
Since 2008 changing exhibitions take place on the premises of the Center for Advanced Studies in cooperation with the LMU UniversityGallery.