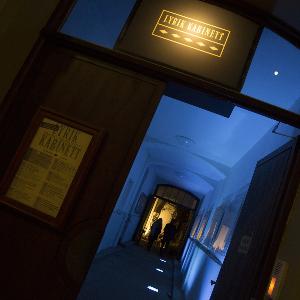 A comeback to end the year: The illuminated cavern of the spoken word, sorely missed by its audience for a number of months, is reopening. Yes, Poetry in Motion is back – Munich's most exotic poetry club night, complete with light shows, barbies, mirror balls and, on the podium, the sharpest tongues in the international slam scene. While Ko Bylanzky provides the inspiring introductions, Simian Keiser and HC will deliver their very own unmistakable sound. It's poetry showtime!
With Paulina Behrendt (Hamburg)
Matti Linke (Hanover) and
Philipp Potthast (Munich)
Moderation: Ko Bylanzky
Manning the turntables: Simian Keiser
Tickets: 8 euros/6 euros (discounted rate). Tickets are free for Lyrik Kabinett members. For more information, please visit the Lyrik Kabinett website.
LMU and the Lyrik Kabinett have worked together very intensively for over 30 years. The more than 68,000 works subsumed under the Lyrik Kabinett Foundation are available via OPAC to everyone related to LMU. Numerous events provide a fascinating insight into the current poetic landscape.