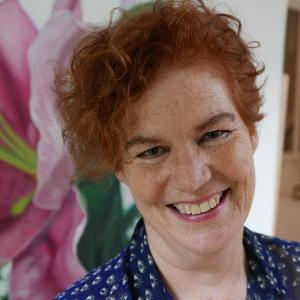 She is one of the most active and respected purveyors of German poetry in the Anglosphere: Born in 1962, German scholar and translator Karen Leeder holds the Chair of Modern German Literature at Oxford and is currently enjoying a poetry residency sponsored by the Lyrik Kabinett Foundation and Villa Waldberta in Feldafing. Leeder has translated works by the likes of Evelyn Schlag, Volker Braun, Michael Krüger, Raoul Schrott and Ulrike Almut Sandig into English. Here in the vicinity of Munich, she is devoting her time to completing an anthology of Durs Grünbein translations entitled "From a Book of Weaknesses: Selected Poems 2005-2022".
In a discussion with Durs Grünbein moderated by Lisa Jeschke, who works for the Lyrik Kabinett and translates contemporary British poetry into German, Leeder will, on the evening of 21 September, give an insight into her work on the anthology. Another highlight of the evening will be a reading by Grünbein, born in Dresden in 1962, from Äquidistanz (Equidistance), his twelfth volume of poetry recently published by Suhrkamp (2022). In the author's own words: "Just in case, poetry can also be a device to capture the future." This event will certainly be a chance to capture and listen to two very special voices!
Organized in cooperation with the program Artist in Residence Munich, Villa Waldberta/City of Munich.
The event will be held in German and English.
Tickets: 8 euros/discounted rate: 6 euros (tickets are free for members of the Lyrik Kabinett). For more information, please visit the Lyrik Kabinett website.
The connection and collaboration between LMU and Lyrik Kabinett has lasted more than 30 years and is marked by intense cooperation. Lyrik Kabinett's more than 68,000 works are available through OPAC to all members of LMU, and numerous events offer a good insight into the contemporary poetry scene.