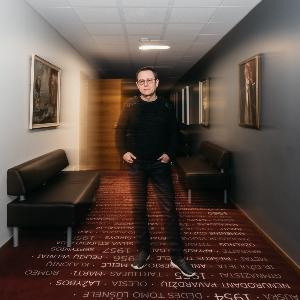 The centerpiece of this year's »Forum« program is a conversation between poets from West and East. To celebrate this sumptuous soirée of lyricism, Tanja Maljarchuk has invited stellar voices from Ukraine, Lithuania and Albania, each of whom will engage in dialogue with prominent protagonists from German-speaking Europe: Nico Bleutge, Nora Gomringer, Andrea Grill and Sasha Marianna Salzmann. [NR1]Ihren Namen würde man m.E. üblicherweise ohne "ts" anglisieren.
Metaphors are no use against people with machine guns, writes Halyna Kruk (1974), a poet from Lviv. To what forms, then, can poetry have recourse at a time when "one must defend oneself with actions, not words"?
"When someone destroys your world, language will reflect that," says Lyuba Yakymchuk (1985). The fact that her voice is heard is due to her appearance at the 64th Grammy Awards, where her excerpts from "Apricots of Donbas" touched an audience of millions.
Until she was 22, Albanian author Luljeta Lleshanaku (1968) was forbidden to write poetry – which only made the lyrical works she pens today all the more visceral and vibrant.
And Gintaras Grajauskas (born in 1966), the »silent grand master of modern Lithuanian poetry«, whistles on a dandelion stem in one of his poems, countering horrors with a laconic, tongue-in-cheek melancholy.
An evening with:
Lyuba Yakymchuk & Sasha Marianna Salzmann
Halyna Kruk & Nora Gomringer
Gintaras Grajauskas & Nico Bleutge
Luljeta Lleshanaku & Andrea Grill
Interpreter: Sofiya Onufriv
Organized in cooperation with Literaturfest München [the Munich Literary Festival].
Tickets: 15 euros/10 euros (discount rate). Lyrik Kabinett members are eligible for the discounted ticket price. For more information and to book tickets, please visit the Literaturfest website.
LMU and the Lyrik Kabinett have worked together very intensively for over 30 years. The more than 68,000 works subsumed under the Lyrik Kabinett Foundation are available via OPAC to everyone related to LMU. Numerous events provide a fascinating insight into the current poetic landscape.