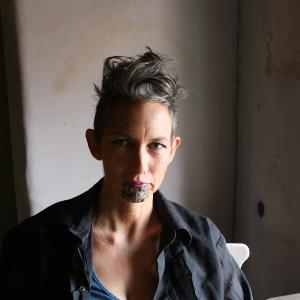 Hinemoana Baker, born in Christchurch in 1968, is the first author we have welcomed whose origins span both Europe and New Zealand. Baker's father is of Māori extraction – she also writes in the Māori language – although she also has roots in England and the south German town of Oberammergau. She graduated from Victoria University of Wellington with a bachelor's degree in Māori and women's studies and a master's degree in creative writing. Since 1990, she has made international appearances as a poet and singer-songwriter. Baker has lived in Berlin since 2015.
Her translator, Ulrike Almut Sandig, born in Saxony in 1979, a graduate of the German Institute of Literature in Leipzig (inter alia), author of poetry and narrative prose and co-founder of PEN Berlin, has this to say about Baker's poems: "The rage of the minorities is palpable in many of her lines. Yet it is not only to the not-so-tiny minority of the Māoris, but also to people who identify as queer – a lifestyle the author herself embraces – that Baker gives room in a most elegant way. Her poetry deconstructs the majority perspective with humor and musicality. A celebration of the sensuous space we experience through language opens itself to us as we read."
The English-German turnaround book Funkhaus (Radio Station), recently published by Voland & Quist in the Azur edition, is Baker's first complete volume in German.
Tickets: 8 euros/6 euros (discount rate). Lyrik Kabinett members receive free admission. For more information, please visit the Lyrik Kabinett website. The event will be held in German.
LMU and the Lyrik Kabinett have worked together very intensively for over 30 years. The more than 70,000 works subsumed under the Lyrik Kabinett Foundation are available via OPAC to everyone related to LMU. Numerous events provide a fascinating insight into the current poetic landscape.