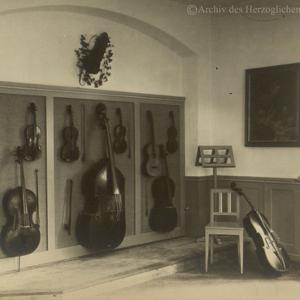 The Herzogliches Georgianum (Ducal Georgianum) is an LMU Munich endowment for the training of priests and theologians. Its aims are supported by a series of scientific collections and, in particular, by the Museum kirchlicher Kunst (Museum of Ecclesiastical Art). The cultivation of music has assumed a prominent role since the Late Middle Ages, as is evident from the assortment of instruments and performance materials on display. Some of these items come from the University itself, others from monasteries that are no longer in operation.
To mark the 2023 Provenance Research Day, the archive and collections of the Ducal Georgianum and the University Archive have organized a presentation of historic musical instruments and performance materials.
The event will be accompanied by the ARTigo social tagging game, an initiative launched by LMU's Institute of Art History.
The Provenance Research Day will take place this year for the fifth time, born of an initiative launched by the Arbeitskreis Provenienzforschung e.V. (Provenance Research Workgroup). For the third year running, an assortment of LMU institutions and collections are taking part.
Participation is free of charge. For more information about the Georgianum, please visit the University Archive website.