Working here & abroad: your international career in Bavaria, Germany and worldwide
Become part of the german and international labor market
In the winter semester, we are launching a new event format aimed at both international and national students at LMU.
You are a student with an international background and would like to become a sustainable part of the german labor market? Establishing personal contacts with companies based here is a particularly important step! At our event you will have the opportunity to do so. You will get to know companies that are represented both in Germany and internationally and have one-on-one discussions with them about your career opportunities and entry possibilities.
Are you a student interested in working in an international environment and looking for the right start? The event also offers you great opportunities to make lasting personal contact with interesting companies that are represented internationally.
The fair will be accompanied by two workshops. Workshop 1 refers to the application in Germany, Workshop 2 to the application in an international context. Get important tips and advice and ask our experts from the business world your questions.
Get to know the following companies: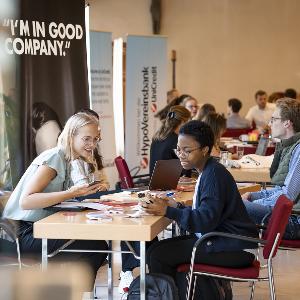 EF Education (Bildung)
Generali (Versicherungen)
Marc O'Polo
Microsoft (Software)
Pimco (Anlageverwaltung)
ThermoFisher (Tech / Pharma)
More companies to be announced.
Timetable
Date: 14.10.2022, 9 a.m. - 18:00 p.m.
Location: KKV Hansa Haus
9:00: Welcome
9:30: Workshop 1: Application to the german labor market
11:00: Workshop 2: Application to the international labor market
12:30 - 13:30: Lunch break
13:30 - 17:30: Fair, one-on-one meetings and networking
Registration
You can easily register for our Career Community events by becoming a member of our Career Community. You can register via the Career Community Portal.
As there are limited places please register as soon as possible.
Johanna Uitz
LMU's Career Services
Career Community / Internationalization & Digitalization
Dr. Stephan Pflaum
LMU's Career Services
Career Community / Employer Services