BIG.Cube (Consulting / Business Intelligence)
We offer job opportunities for the following specialties
STEM

very good opportunities

Economics

very good opportunities
Who we are
BIG.Cube: The premium consulting firm in the heart of Munich. Specializing in Business Intelligence, we develop technologically future-oriented solutions and products for our customers. We offer the entire value chain from Business Analysis, SAP Analytics, SAP HANA and Data Science to SAP Basis & HANA Platform from a single source. As business and IT are increasingly merging, we are at home in both worlds as a premium consultancy. At the same time, our employees are our most valuable asset, which is why we invest heavily in modern working methods, an outstanding corporate climate and offer above-average salaries. We are BIG.Cube: Convinced of a cooperation based on reliability, passion and highest quality standards - with a lot of fun!
Prospects for the future
Benefit from the promising prospects of a successfully growing company. We promote your career with us from day one: we cultivate a hands-on mentality and you will benefit from our innovative business intelligence topics, targeted training measures and weekly internal training sessions. During regular feedback sessions, your personal development will be evaluated and the next possible steps will be planned. Grow with us!
What makes working for us so special?
As an innovative company, hierarchies, bureaucracy and dusty processes are alien to us. At BIG.Cube, we put our employees first, creating a working atmosphere in which we feel comfortable. We invest a lot in modern working methods, an outstanding corporate climate and offer above-average salaries.
3 reasons why you should come to BIG.Cube:
BIG.Cube feels like home
Work-life separation
Unique culture and work atmosphere
Areas of responsibility
We are convinced that IT expertise and technical know-how must go hand in hand today for high-quality SAP consulting. Business Intelligence and IT are merging more and more. As a premium consultancy, we are therefore at home in both worlds.
Our expertise:
Business Intelligence
Data Warehousing
Business Analysis
Project Management
Our technologies:
SAP Analytics (SAP BW/4HANA, SAP Analytics Cloud, SAP BusinessObjects)
SAP HANA Development
Data Provisioning & Integration
SAPUI5 & Fiori
SAP Basis & HANA Platform Services
Your contact: Christian Buchard
Your start at BIG.Cube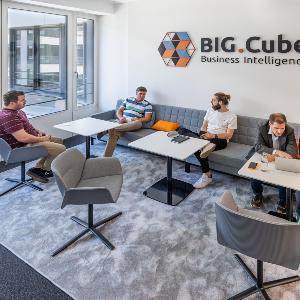 Qualifications sought
In general, we are always looking for motivated characters who are familiar with the SAP environment and have a heart for consulting. We would be very happy to hear about experience in the areas of SAP BW/4HANA, Business Intelligence and/or software development.
Sought-after courses of study among young professionals:
(Business) Informatics
(Business) Engineering
(Business) Mathematics
Business administration or comparable education
Business Administration
Related Links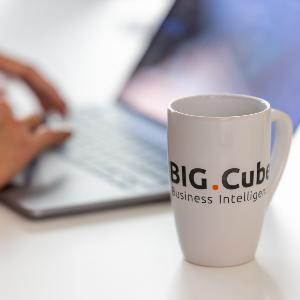 Find us here
Job postings
Werkstudent (digital) Content Marketing Manager (m/w/d)
Junior-Application Developer (w/m/d)
Junior-Business Analyst (m/w/d)