A magazine for a master's thesis
10 Jul 2023
On politics, literature and coffee breaks: Student-run magazines at LMU
"As a teenager, I was fascinated by the magazine Bravo," Lilly Düstersiek recalls. "But there came a point when I noticed that it was also superficial and conveyed a questionable image of women." In contrast, women's magazines ran "love yourself the way you are" stories while also featuring hints on make-up and how to lose weight. "And political magazines seemed to have been produced by older people who treated us younger people as a species from Mars." As a young politically minded woman looking "fearfully in some regards" to the future that lies ahead, Düstersiek felt that none of these publications properly represented where she stood. In the course of her studies, she therefore decided to publish her own periodical.
For us, it is important to mirror the thoughts of young people and give them a forum.
Lilly Düstersiek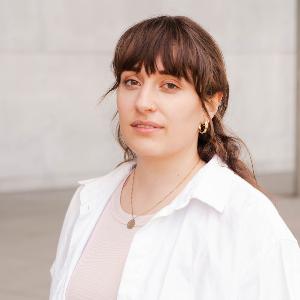 "During the pandemic, while I was studying for a bachelor's degree in romance languages at LMU, the perfect opportunity seemed to have arrived," the now 24-year-old says. "Everyone suddenly had more time, so I rounded up a few friends." With great excitement and plenty of virtual editorial meetings, the group set about producing a magazine that would be the opposite of a Bravo that was wowed by everything. BUUH! (literally: Boo!) initially appeared as a blog. Over time, however, it increasingly morphed into a digital magazine with politics, economics and panorama sections, but also headings such as "Rage", "Bodies" and "Feelings". Düstersiek thus took her place among a growing number of student magazines in the LMU orbit – other examples being philtrat, established in 2005 and now reporting every semester on university life, politics and culture, and the bilingual turtle magazin(e), whose sub-headline is "Doing art and literature together".

"The fire that burned in me from the start," Düstersiek says, "was stoked even further by the many grievances there are in the world. We wanted to write about them from a youthful perspective – and show how everything is interrelated: culture, politics, climate policy, feminism." The topics we are addressing right now relate to feminist medicine, Generation Z and queer dating. "For us, it is important to mirror the thoughts of young people and give them a forum." Special issues are produced again and again – on subjects such as "lust" and "theater" (the latter when stages were closed down due to the pandemic). Alongside social criticism, we also have a strong focus on promoting culture, "because that simply gets a raw deal" in the view of Düstersiek, who sidelines as a singer and also loves to go to the theater.
A timeout on paper
The volunteers behind BUUH! are mostly students from a variety of faculties at both LMU and other universities. The deputy editor-in-chief, for example, is studying literature at LMU. She notes that the magazine advocates intersectional feminism and positions itself as both critical of power and anti-capitalist. The editorial team experiences a great deal of churn, in part because students have varying amounts of time in different phases of their academic education. Needless to say, running a magazine like this is very time-consuming – alongside studies, private life and hobbies. "You can sometimes spend a whole day just putting together a reel on Instagram to create content for BUUH!," Düstersiek concedes. "And it's the same for all of us. Then staying concentrated in our collaboration, keeping people on board and establishing a flat hierarchy but an editorial structure that still works – it's not easy."
And then there are the costs. "The website, the domain, editing apps, even just setting up the formal organization behind BUUH!, that all costs money." The funding comes from membership fees and donations, which the student of romance languages unabashedly asks for on the website: "We are young and we need the money!" Düstersiek is keen to keep going, though. "There is still so much to talk about!" Up to now, the magazine has been digital-only. But she dreams of one day holding a BUUH! in her hands – like she once did with Bravo.
Celine Edinger (24) likewise wanted to produce "a medium you can touch and feel". For her, that is in fact a kind of fundamental assumption: She wanted to do the layout and design, to try her hand at creative aspects and "create something more durable" than the blog she had been writing since finishing her Abitur. While studying for her bachelor's degree in communication at LMU in 2020, she therefore launched Kaffeezeit (Coffee Time). She wanted the paper-based journal – later renamed Zeitlichkeiten (a play on words between "tenderness" and "time") – to be a "refuge of well-being", a "timeout on paper". The journal features poems and interviews, recipes and columns, short stories, travel reports and essays. In her design philosophy, the student strives to counter the Internet's ubiquitous sensory overload. "We take care to keep a 'tidy' look with lots of white space and a typeface that is easy on the eye."
We are a magazine that doesn't really want to be a magazine. We want to be an open platform for word art that is carried by our community
Celine Edinger
Workshop and grants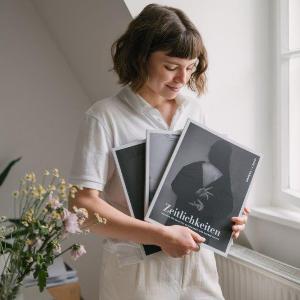 Today, Edinger is doing a master's in sociology at LMU and Zeitlichkeiten has reached issue no. 7. Moreover, "a whole brand universe" has sprung up around the magazine, complete with website, community blog, Instagram and TikTok accounts and a shop selling week planners, prints and jute bags. "My colleague Mayla looks after the photography and design. But we actually do most of the work together, planning topics, generating social media content, looking for photographic motifs and so on." On the website, she invites anyone who is interested to submit articles on the main topics currently featured in the journal – topics such as "Dreams", "Bodies" and "Fellow human beings". A total of 15 students volunteered their time for the latest edition. "We are a magazine that doesn't really want to be a magazine. We want to be an open platform for word art that is carried by our community," Edinger explains. "You don't have to write to us in advance. You can just send us your texts. Different people contribute articles in each issue. People are really keen to write and are incredibly proud to see their texts published in a printed magazine."

Some time ago, the Zeitlichkeiten team rented a workshop on Munich's Gärtnerplatz square. It was used to sell copies of the journal, but also for yoga sessions, a concert and a public reading. Yet despite the availability of the workshop, the online shop and two grants Edinger has been able to acquire, financing the print magazine remains a challenge. "We work with a small Munich printshop that specializes in sustainability and fantastic colors." Not even the magazine's selling price – currently 15 euros – covers the costs. "And that is not a lot for the print quality, content and almost complete absence of advertising," Edinger insists. "Maybe we should have first built up a following on Instagram and then launched the print magazine. But even that is not so easy anymore, especially when you want to produce high-quality content and not just funny videos." Despite all the obstacles, the message she writes on the website could not be clearer: "Never, never, never in my life has any work given me such a sense of fulfilment."
The student literature magazine Klang is of similar importance to Jack Verschoyle, its publisher. "I am interested in the philosophy of languages, in theories of translation – in literature, basically," the student tells us. "My aim was to accept texts in any language." The native of Oxford has been studying at LMU for an international master's degree in logic and philosophy of science for the past eighteen months. In the Bavarian capital, however, he found himself missing a literature magazine in English. "At the University of London, where I did my bachelor's, there was a magazine specially for us philosophy students. I used to write for it from time to time."
We see language across the boundaries of languages. We want to promote them, study them – and simply enjoy them
Jack Verschoyle
Literary and polyglottal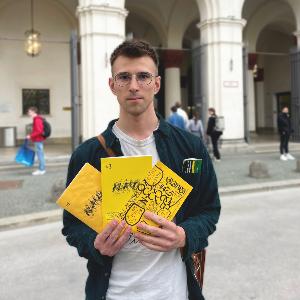 Verschoyle was keen to set up something comparable in Munich – and did so. The student-run polyglottal literary magazine now appears on a bi-monthly basis. It features creative and often experimental short stories, poems and essays in all kinds of languages, together with German or English translations produced by the authors themselves. In their capacity as native speakers, Verschoyle and his fellow students only iron out the creases. The Englishman is joined on the Klang editorial team by four other students from his master's course. Manuscripts are also submitted by students of disciplines such as English and art history.

"We've not yet really sorted out how to recruit new staff," Verschoyle admits. "I have written to student bodies in the faculties. Maybe we should put some posters up." He sometimes stops by at "Open Stage" evenings in the "Lost Weekend" café near the university in search of other students to get involved in Klang. "But the kind of extracurricular culture you find at English universities, where a lot is based on voluntary student commitment and you have countless student-run groups, doesn't seem to be so pronounced over here."

Klang is published online and funded by donations and the sale of a handful of printed editions. The latest of these, for example, contains an interview with a Danish director of short films, a short story by a Russian author and poems in German and Portuguese. "We see language across the boundaries of languages," Verschoyle explains. "We want to promote them, study them – and simply enjoy them."