Destination plant classification
22 Jul 2021
Gudrun Kadereit, newly appointed professor at LMU Munich, researches plant systematics and evolution.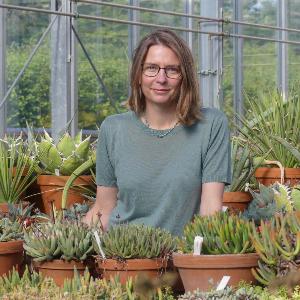 "This is a dream job for someone like me who works with systematics and evolution," says Gudrun Kadereit, holder of the Prinzessin Therese von Bayern (Princess Therese of Bavaria) Chair of Systematics, Biodiversity and Evolution of Plants at LMU Munich since January 2021 and also director of the Botanische Staatssammlung München (Herbaria M and MSB) and the Botanical Garden Munich. The biologist talks enthusiastically about her new place of work. "There are 20,000 plant species cultivated in the Botanical Garden, and the garden holds so much more biodiversity than we know, since it has been here for more than 100 years. I'm sure we will find some surprises in there as we gradually record all the species."

Gudrun Kadereit conducts research on the evolution of complex traits in plants, such as so-called C4 photosynthesis, a special form of photosynthesis mainly performed by plants in dry locations. "C4 photosynthesis is very complex physiologically and in terms of gene regulation as well. What I want to understand is how such complex traits are able to arise during evolution. But at the same time, I've always been a systematist too, studying the relationships within different plant groups."

Research on plants that are capable of surviving in deserts
Newly appointed to the post of professor at LMU Munich, Gudrun Kadereit comes from Lower Saxony and did her undergraduate studies in Osnabrück. After spending half a year in Scotland, she transferred to the University of Göttingen for her graduate studies. Her diploma thesis then took her far away, to Brazil. "That was quite unusual at the time," Gudrun Kadereit says looking back. She collected data on shifting cultivation as practiced by the farmers there, to investigate what grows in the fields after cultivation has ended: does the forest come back or does grass grow over the entire area? "I was absolutely captivated by it. The challenge back then lay in identifying and classifying the plants. That's easy in Central Europe. You use the identification key, or now, the identification app. But of course you can't do that in the tropics. So I went out with local botanists and learned to identify the plants. I found that hugely appealing."

This experience led Gudrun Kadereit towards her PhD topic: a thesis on a large family of tropical plants, the melastome family or Melastomataceae, on which she worked systematically at the University of Mainz (supervised by Susanne Renner, her predecessor in Munich). Her topic for her Habilitation (postdoctoral lecturing qualification) was the taxonomy and evolution of the goosefoot family or Chenopodiaceae, a family of plants capable of surviving in deserts and salty locations, where they have evolved complex adaptations such as C4 photosynthesis. "And that's something I stuck with."

An interface at the Faculty of Biology
Many factors connect her work with that of her colleagues at the Faculty of Biology. "My research represents an interface in terms of biodiversity on the one hand and interesting traits such as photosynthetic evolution or stress tolerance on the other. I identify interesting systems, sister species for example, that differ significantly in their method of photosynthesis. When you're comparing them you can go into great depth. That's where physiology, molecular biology and genetics come in." The biologist is looking forward to meeting colleagues in person after the long months of the pandemic and the numerous Zoom conferences.
What I want to do is integrate the garden into our teaching. I envision a mix of working in the lab, in the greenhouse, and on the PC
Gudrun Kadereit
Modern technology and old collections
Gudrun Kadereit has new plans for the Botanical Garden in research and teaching. "What I want to do is integrate the garden into our teaching. I envision a mix of working in the lab, in the greenhouse, and on the PC — bioinformatics also plays a big role in constructing phylogenetic trees, for example. So it's a mix of different skills that the students learn here: starting with the organism, how and where it grows, to the bioinformatic analysis and its position in the evolutionary tree of plants."

However, she also wants to strengthen public education and science communication. "Ideally, we would conduct a research project and communicate it to the public at the Botanical Garden, and then the students can get involved in doing it, too."

The herbarium, which contains about 3.3 million specimens and is the third largest in Germany, is also a place that Gudrun Kadereit sees as playing a major role in research and teaching. "There is a growing recognition of what can be done with such collections in terms of research. Quite apart from DNA extractions, which are increasingly successful even with old herbarium specimens, modern technology and digitalization enable you to extract a lot of new information from old collections. That is, of course, a treasure that we need to unearth."