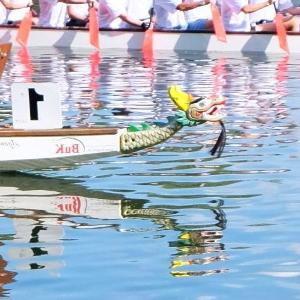 The Dragon Boat Race between LMU and TUM is like the classic Boat Race between Oxford and Cambridge!
To begin with, the boats entered by LMU and TUM students battle it out for the title "Master of the Olympic Lake Students". This is followed by a series of races that also involve the other university boats: In each of these races, four boats paddle twice in succession for the best time. After seven such races, the eight fastest boats go into two semi-finals. The two fastest boats from each semi-final meet in the final. Before the final, toward 7:30 p.m., the race between professors from LMU and TUM determines who will be the "Master of the Olympic Lake Professors". After that, the final reveals one worthy winner and the fastest team is crowned "Master of the Olympic Lake".
The 250-meter course covers the entire length of the Olympic Lake.
Prizes will be awarded for the fastest boats, but also for the three most original teams. Spectators are more than welcome!
Patrons:
Professor Oliver Jahraus, Vice President of LMU
Professor Thomas F. Hofmann, President of TUM
Organizer:
Dr. Lothar Schmittdiel, with the cooperation of LMU and TUM
To sign up and/or find more information about the Dragon Boat Race, follow this link to the event website (in German).