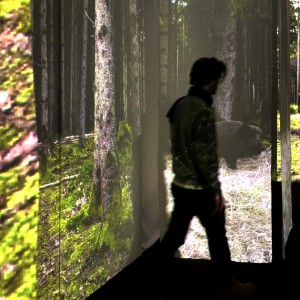 From 21 to 27 February there will be an interactive video installation across the 120 m2 floor space of the VRlab. Approaching Nature is a collaborative project between students of LMU and the University of Television and Film in Munich.
The installation employs images and sound to create a life-like natural scenery that surrounds visitors. As visitors freely explore the scenery around them, their interaction with the inhabitants of the forest becomes clear. Lights in the installation react to the intrusion of people into the animals' habitat and cause the projected images to switch off. All that remains is a bare white surface; nature disappears. How far does our curiosity force humans to get closer to nature? How does the crossing of boundaries by other visitors influence our own experience? Is there an appropriate distance from which we can enjoy nature without disturbing it? The installation is open throughout the VRlab's opening hours.
Entry is included in the museum admission fee.
For more information about the event, please visit the website of the Deutsches Museum.