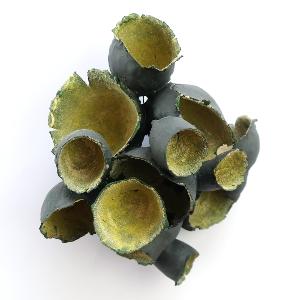 Exhibition: Cabinet of curiosities
Artist Iris Schabert updates the concept of the "cabinet of curiosities" for the present era. Back in the days of Baroque and the Renaissance, the nobility and the well-heeled bourgeoisie could access exclusive collections and marvel at handicrafts as a blend of natural artifacts, valuable replicas and ingenious interpretations.
Schabert creates a hands-on experience of such artificialia and naturalia for one and all at the Botanical Garden. Inspired by the beauty and esthetics of items she personally has found in nature, the artist's works are fashioned from glass, metal and porcelain.
About the artist
Sculptress and goldsmith Iris Schabert has lived and worked in Munich since 1997, a period punctuated by several stays abroad in Spain and Mexico.
Plant-based organic forms and phenomena such as overgrowths, layers of mold, burst pods, decay and the associated fragility are a central theme of her work, which is rooted in and driven by a quasi-scientific approach coupled with an inexhaustible passion for experimentation.
LMU collaborates closely with the Botanische Staatssammlung München (State Botanical Collections in Munich). The cooperation goes back to the year 1820 and was initiated by the naturalist Carl Friedrich Philipp von Martius, LMU's first Professor of Botany, who was also the Director of the Botanische Staatssammlung München. Since then, the two positions have always been linked. Professor Gudrun Kadereit, who holds the Chair of Systematics, Biodiversity and Evolution of Plants at LMU, is the current Director of the Collection and the Botanical Garden.