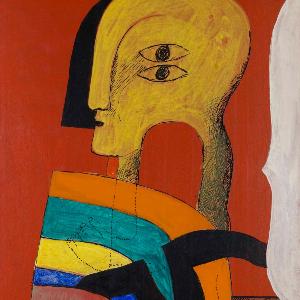 The Center for Advanced Studies is hosting an exhibition of works by the graphic artist Horst Antes. In the series "Art at the CAS", LMU's Center for Advanced Studies (CAS) presents two new exhibitions every year. Its latest show was put together in cooperation with the Franz Marc Museum in Kochel am See.
The current exhibition focuses on the famous Kopffüßler – a set of works created by the artist Horst Antes, which not only occupies a central position in the artist's pictorial universe, but has become the most distinctive component of his oeuvre. The figures shown in these works are characterized by their oversized heads and feet, while the torso is essentially absent. In these images and sculptures, the "Head-and-Footers" are usually depicted in profile and have strikingly attentive eyes. Their deliberately 'misproportioned' but immediately recognizable forms appear in a variety of constellations in the artist's work – as single figures, couples and whole families.
Horst Antes, born in 1936 in Heppenheim, studied painting at the Academy of Art in Karlsruhe. He was among the first artists who rejected the dominance of abstract art in favor of new forms figurative art. In addition to contributing to many international shows, he also participated in documenta III (1964), IV (1968) and VI (1977). He lives and works as an independent artist in Italy.