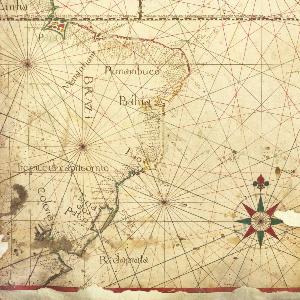 In the context of a seminar by Dr. Thomas Horst (History Department at LMU Munich and Centro Interuniversitário de História das Ciências e da Tecnologia, Lisbon), a new exhibition devotes itself to decidedly widely-read scholar at LMU who was nevertheless all but forgotten: Friedrich Kunstmann (1811-1867), historian, legal expert, canonist and theologian. His studies of cartography and church history, enriched by an extended period spent as a teacher at the royal court in Lisbon, Portugal, prompted him to assemble a library covering these topics (1,100 volumes, many of them in Portuguese). Since 1868, this collection, together with his estate, has been in the possession of the University Library at LMU Munich.
Alongside documents chronicling Kunstmann's activities in Portugal and at LMU, selected items from the collection of maps found in his estate (regional and country maps, nautical and portolan charts and hemispheric maps of the world) are on display for the first time. The maps and charts range from valuable original 16th-century prints to contemporary facsimiles and copies created by hand. One Portuguese manuscript map of the Atlantic, showing the coasts of Brazil and West Africa (1764), stands out in particular.
When visiting the exhibition, please observe the current protective and hygiene measures (e.g. the "3G" principle that applies in all university and library buildings and the requirement to wear a FFP2 face mask). For more information, please visit the University Library's website.