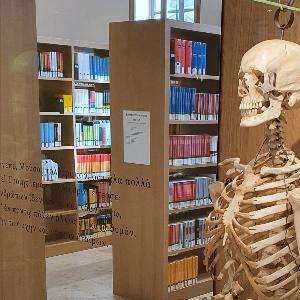 During the new Winter Semester, the Philologicum, which is part of the University Library system, is presenting an exhibition that features brains and hearts – and much more.
In the exhibition area of the Philologicum, LMU is showing representative specimens from its Anatomy Collection, accompanied by a small selection of anatomical atlases chosen from the University Library's holdings of historical books.
The Institute of Anatomy and Cell Biology (Anatomische Anstalt) possesses an anatomical collection, which covers an area of 340 square meters. Its origins date back to the year 1810. Since the middle of the 19th century it has been continually extended, and has been an integral part of the Anatomische Anstalt since 1907. The items in the collection are exhibited in 42 display cases, together with 18 other objects. With some 1500 objects and images, the collection provides a systematic survey of all of the organs in the human body, together with a set of animal skeletons – for comparative purposes and as a guide to the understanding of animal evolution. Many of the preparations and sections, and in particular the historically significant anatomical models, offer an excellent overview of the internal and external structure of the human body, and its diversity. Soberly yet fascinatingly presented, without any suggestion of sensationalism, LMU's Anatomy Collection encourages visitors to reflect on ethical responsibility and on the uniqueness of each and every individual personality.
Please find further information (incl. on the current hygiene measures) on the exhibition webpage.