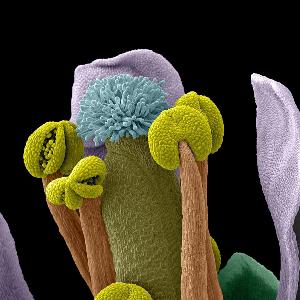 What did the primordial flower look like? For whom are flowers beautiful? How important is the pollination of flowers for humans? Answers to these fundamental questions are provided by the large summer exhibition in the Botanical Garden. It is the central summer highlight of the Botanic Garden as part of the Flower Power Festival Munich 2023.
Pollen models let you feel microscopic details. A family tree leads back to the origins of flowering plants. Oversized flower models allow perspective from an insect's point of view. Instructions for building insect nesting aids explain how native pollinators can be helped. A themed trail through the Botanical Garden leads to living plants, whose beauty and diversity become more apparent. Immerse yourself in the fascinating phenomenon of flowers!
Supported by the Society of Friends of the Munich Botanical Garden e.V. and the Elfriede and Franz Jakob Foundation.
LMU collaborates closely with the Botanische Staatssammlung München (State Botanical Collections in Munich). The cooperation goes back to the year 1820 and was initiated by the naturalist Carl Friedrich Philipp von Martius, LMU's first Professor of Botany, who was also the Director of the Botanische Staatssammlung München. Since then, the two positions have always been linked. Professor Gudrun Kadereit, who holds the Chair of Systematics, Biodiversity and Evolution of Plants at LMU, is the current Director of the Collection and the Botanical Garden.