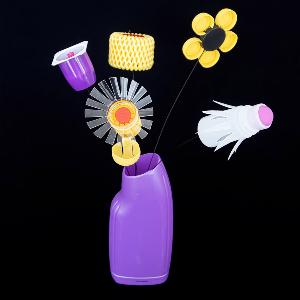 Photographic exhibition by Juli Gudehus in the open-air pergola from 3 February to 4 October 2023
"Do you know the land where the lemon juice bottles grow?" Goethe might ask today, gazing in bewilderment at the peculiar outgrowths of our consumer world. Meanwhile, humanity is drowning in waste, throwing 3.5 millions tons of stuff away every day.
Table water lilies, wild cans, orchideos… The fruit of Juli Gudehus's imagination is eerily familiar. Bottles, beakers, caps and the like: Every element used in her collages officially belongs in the yellow recycling bin. Yet the pleasure of recognizing so many everyday things also spawns a more reflective mood.
It is no coincidence that the artist's floral images are evocative of the Old Masters' 'still life' pictures; and of the ephemeral nature of everything that lives. Conversely, Gudehus conjures up a sense of the imperishability of what humanity leaves in its wake today. Her way of transforming throwaway items into art also says a lot about people's latent knowledge of product design and brands – a knowledge which, in most cases, surpasses by far what they know about herbs, flowers and trees.
'The Nature of Things' will be on display in the form of 20 large-format photo boards in the Botanical Garden pergola. It will open with blühwein, a floral take on the traditional mulled wine or blühwein, at 3 pm on 3 February. Access to outdoor areas of the Botanical Garden is free of charge until 25 March 2023.
LMU collaborates closely with the Botanische Staatssammlung München (State Botanical Collections in Munich). The cooperation goes back to the year 1820 and was initiated by the naturalist Carl Friedrich Philipp von Martius, LMU's first Professor of Botany, who was also the Director of the Botanische Staatssammlung München. Since then, the two positions have always been linked. Professor Gudrun Kadereit, who holds the Chair of Systematics, Biodiversity and Evolution of Plants at LMU, is the current Director of the Collection and the Botanical Garden.