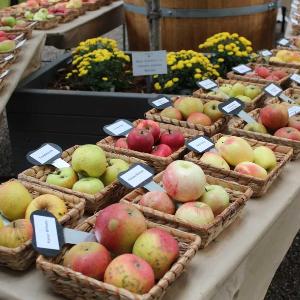 A cornucopia of regional crop plants
Few people know how many different kinds of fruits, vegetables and cereals are traditionally planted in Bavaria. The Harvest Festival Exhibition provides an insight into this treasure trove of regional crop plants.
One focus of this year's exhibition is the diversity of endemic cereal crops and the products that are made from them. What kinds of cereal go into my breakfast? What processing steps are involved before a slice of bread lands on my plate? TAGWERK e.V., a cooperative of organic food producers and food processing firms, addresses precisely these questions at this year's Harvest Festival Exhibition.
Meanwhile, Landesanstalt für Landwirtschaft (LfL; the Bavarian State Research Institute for Agriculture), zooms in on the topic of orchard meadows as an especially sustainable form of fruit growing. More than 100 varieties of apple that are typical of the region are presented – a small selection from the vast spectrum of cultivated apples. Visitors are welcome to taste some of these varieties at the exhibition itself.
If you are not sure what kind of apple tree you have in your garden, an expert is on hand to name it for you. Pomologist Friedrich Renner will be happy to identify apples brought along by visitors on the second weekend of the exhibition (1-2 October).
LMU collaborates closely with the Botanische Staatssammlung München (State Botanical Collections in Munich). The cooperation goes back to the year 1820 and was initiated by the naturalist Carl Friedrich Philipp von Martius, LMU's first Professor of Botany, who was also the Director of the Botanische Staatssammlung München. Since then, the two positions have always been linked. Professor Gudrun Kadereit, who holds the Chair of Systematics, Biodiversity and Evolution of Plants at LMU, is the current Director of the Collection and the Botanical Garden.