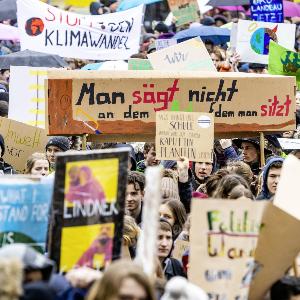 Lecture series on "How Education Can Mitigate Climate Change"
In 2030 our world will be a different one. Scientists forecast that this present decade will witness a more pronounced change in the climate than any we have yet seen. Episodes of extreme weather of all kinds will become more common, the rate of biodiversity loss will increase, water resources will decline, harvests will become less secure and an increase in migration flows will inevitably follow. How humans react to global warming in the coming decade will decide whether or not our planet's climate can be returned to a stable state.
Education will have a major role to play in promoting the transformation of society that is required to tackle the issue effectively, giving future generations a fair chance to make the necessary adjustments in their turn. An online series of interdisciplinary lectures given by researchers at LMU and other experts in relevant fields will focus on possible ways of successfully responding to the challenge.
Our economic model is based on the expectation of future growth. Money and wealth creation are a measure of these expectations, a wager on a better future. Without this expectation of future returns on investment, the economy, and the social structures that it sustains, would collapse. Its guiding principle is: "Everything is always getting better." But can this open-ended assumption be sustained without exhausting the natural resources on which it ultimately depends? As I will demonstrate in my lecture, the answer is yes - and the financial sector and the markets have a vital role to play. I will outline why this is so on the basis of examples such as the EU's Financial Action Plan for Sustainable Growth and Sustainable Finance, as well as cooperative models - which have lost none of their relevance.
Dr. Edeltraud Leibrock is a partner in Publicis Sapient, an international consultancy which specializes in the digital transformation sector. She studied Physics and Biology at Regensburg University, and obtained her PhD at the Fraunhofer Institute for Atmospheric and Environmental Research (IFU), which was followed by a stint as a postdoctoral researcher at the DAAD Fellow at the NOAA Aeronomy Lab in Boulder, Colorado. Much of her subsequent career was spent in the banking sector, e.g. as a Board Member of the KfW Banking Group. She has also served as a mentor and advisor to start-ups and established firms, including companies that are active in the area of renewable energy sources.
For full details of the lecture series, together with information on how to register for the program, see the corresponding webpage. The lecture will be held in German.