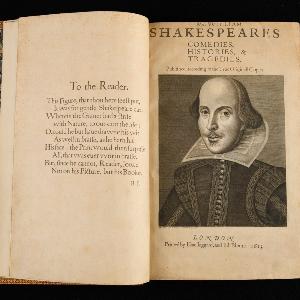 One of the most momentous works of world literature was published in 1623: Mr. William Shakespeare's Comedies, Histories, & Tragedies, the first folio edition of the Bard's collected plays, printed by two of his actor friends seven years after the playwright's death. In the panegyric verse of dedication, Shakespeare's fellow dramatist and rival Ben Jonson crafts a maxim on the great man's impact whose veracity has since proven itself many times over: "not of an age, but for all time". To mark this auspicious anniversary, the Lyrik Kabinett has invited six poets to engage with the First Folio through their own verses.
At this lyrical birthday party, Albert Ostermaier, Uljana Wolf and Marcel Beyer will present homages to Shakespeare that they themselves have penned specially for the occasion. Simon Armitage, Ulrike Draesner and Lavinia Greenlaw will attend via the medium of video messages. Their poems have been collected together (in two languages) in a small anthology, which will also be showcased. In addition, visitors will also enjoy a rare opportunity to see for themselves one of the few remaining copies of the First Folio. Tobias Döring of LMU's Department of English Studies will host the evening.
Kindly supported by Reinhard Gorenflos; sponsored by Neustart Literatur (Fresh Start Literature), a program run by the Deutscher Literaturfonds (German Literature Fund) under the aegis of Neustart Kultur (Fresh Start Culture).
Tickets: 8 euros/6 euros (discount rate). Lyrik Kabinett members receive free admission. For more information, please visit the Lyrik Kabinett website. The event will be held in German.
LMU and the Lyrik Kabinett have worked together very intensively for over 30 years. The more than 70,000 works subsumed under the Lyrik Kabinett Foundation are available via OPAC to everyone related to LMU. Numerous events provide a fascinating insight into the current poetic landscape.