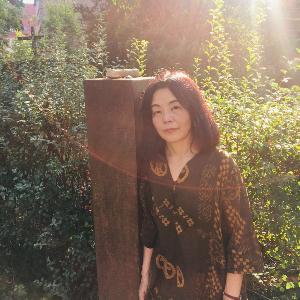 People in Germany know next to nothing about contemporary Japanese poetry. However, Marion Poschmann (1969) and Yoko Tawada (1960) are now launching initial exploratory probes into what, for us, is an alien space where grammar, society and worldview are far removed from our own.
In collaboration with Professor of Japanology Elena Giannoulis, Tawada has produced interlinear versions that were promptly appropriated by some of the best-known German literary voices: Marcel Beyer, Ann Cotten, Daniela Danz, Ursula Krechel, Monika Rinck, Lutz Seiler, Ulf Stolterfoht, Jan Wagner and publisher Marion Poschmann herself. A new anthology commissioned by the Mainz-based Academy of Sciences and Literature brings together these energizing windows on the world, each of which is its own passionate, imaginative, radical appeal for autonomous perception.
"Japanese has many words that mean 'I' or 'me'. Different ones are selected depending on the context or who one is talking to. It is not unusual to find the verb in the infinitive form. Gestures, affinities, fear, pain, impatience, anger, melancholy all become palpable – not as something that belongs to a person, but as interactions between nature, spaces, animals, humans and their recollections." (Yoko Tawada) – "Maybe that is what these verses are all about: creating a state of poetic limbo, a state that merges critical observation with imaginative freedom." (Marion Poschmann)
Sponsored by Neustart Literatur (Fresh Start Literature), a program run by the Deutscher Literaturfonds (German Literature Fund) under the aegis of Neustart Kultur (Fresh Start Culture); in cooperation with the Academy of Sciences and Literature in Mainz.
Tickets: 8 euros/6 euros (discount rate). Lyrik Kabinett members receive free admission. For more information, please visit the Lyrik Kabinett website. The event will be held in German.
LMU and the Lyrik Kabinett have worked together very intensively for over 30 years. The more than 70,000 works subsumed under the Lyrik Kabinett Foundation are available via OPAC to everyone related to LMU. Numerous events provide a fascinating insight into the current poetic landscape.