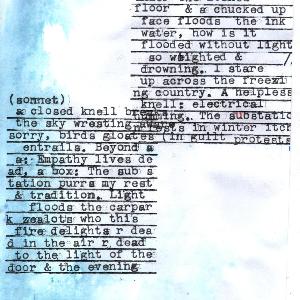 The title is simply hopeless: Verity Spott's Hopelessness (London: The 87 Press, 2020) – hopeless enough to let the ironic break, the glimmer of hope, shine through. For in spite or indeed because of the societal crises of the past decade, Spott and the British experimental scene have been anything but close to giving up, publishing their work — at once playful and taking a stand — in self-published chapbooks and pamphlets, in blogs and on social media, and starting new publishing companies.
In this reading, Spott will present Hopelessness alongside other new poems from their diverse oeuvre. In conversation with Lisa Jeschke, the two will talk about alternative British lyric poetry: publication forms, performance and readings, trans* and queer poetics, form and the deconstruction of form, lyric poetry and activism, hope.
Verity Spott (*1987) is a spoken word performer and poet from Brighton, England. They have presented an impressive array of both experimental and socially engaged texts in recent years, including Gideon (Barque Press, 2014), Click Away Close Door Say (Contraband Books, 2017), and Hopelessness (The 87 Press, 2020). They organize the monthly poetry, music, and performance event Horseplay in Brighton and were the University of Surrey's 2018/19 poet in residence.
Moderation: Lisa Jeschke is a research assistant at the Lyrik Kabinett and regularly translates contemporary British lyric poetry from English (artiCHOKE reading series, Berlin).
The event is taking place on the Lyrik Kabinett's YouTube channel. For more information, see the Lyrik Kabinett website.
You can listen to the event afterwards on www.dichterlesen.net.
The connection and collaboration between LMU and Lyrik Kabinett has lasted more than 30 years and is marked by intense cooperation. Lyrik Kabinett's more than 68,000 works are available through OPAC to all members of LMU, and numerous events offer a good insight into the contemporary poetry scene.