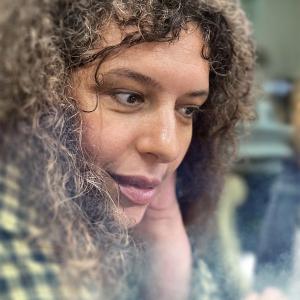 Moderation: Daniel Jurjew
Ukrainian-American poet Ilya Kaminsky confesses to being "bewitched" by the works in Mutabor, Polina Barskova's first book of verse to be published in German. Translated by Daniel Jurjew, the volume contains a selection across her entire lyrical oeuvre, including the highly acclaimed series on the Leningrad blockade.
Framed in breathtaking formal virtuosity, the unexpected imagery in her poetry and the plethora of linguistic devices and allusions – to the grave of Emily Dickinson, for example, or the buckles on Achmatova's shoes – captivate the reader. One's gaze alternately turns inward, to the unfathomable depths and absurdities of the ego, of humanity, then outward, to Barskova's succinctly encapsulated impressions of the environment, to her testimonies of times gone by.
Polina Barskova, born in Leningrad in 1976, published her first book of poetry at the tender age of 15. Many more were to follow. As a student she went to the USA, earning her doctorate at Berkeley, where she now lectures. Her first volume of prose has already been translated into German as Lebende Bilder (Living Images) and won the Andrej Belyj Prize.
Daniel Jurjew, born in Leningrad in 1988, came to Germany with his family in 1991. Today he lives and works as an author, publicist and translator in Frankfurt/Main and Trier. In the summer semester 2022, he held the German Translators' Fund's visiting professorship at the University of Trier.
Sponsored by Neustart Literatur (Fresh Start Literature), a program run by the Deutscher Literaturfonds (German Literature Fund) under the aegis of Neustart Kultur (Fresh Start Culture).
Tickets: 8 euros/6 euros (discount rate). Lyrik Kabinett members receive free admission. For more information, please visit the Lyrik Kabinett website. The event will be held in German.
LMU and the Lyrik Kabinett have worked together very intensively for over 30 years. The more than 70,000 works subsumed under the Lyrik Kabinett Foundation are available via OPAC to everyone related to LMU. Numerous events provide a fascinating insight into the current poetic landscape.