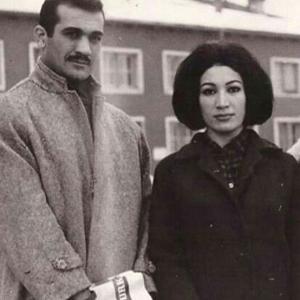 In Iran they rank as two of the best-known personalities of the 20th century: Forough Farrokhzad (1934-67) and her brother Freydoun (1938-92) – she a movie director, author of five volumes of poetry and, as such, one of the most prominent voices in modern-day Iran (although she died in a car accident at a very young age); he a poet, singer, actor, performance artist, entertainer and political activist.
Forough's poetry revolutionized gender roles in the Persian lyrical tradition. Freydoun's verses, written in German and Persian, earned him the respect and esteem of the likes of Martin Walser and Johannes Bobrowski. This evening event provides vivid insights into the works and biographies of these two exceptional personalities, while also retracing their links to the city of Munich.
Guesting at the event will be Forough's adopted son, the poet and translator Hossein Mansouri, who will recite the Persian poems and recount his memories of Forough and Freydoun. Mansouri has translated Forough's poetry into German and Freydoun's into Persian.
Sarah Kiyanrad (LMU), lyricist and Iran specialist, will moderate the evening and recite the German versions of the poems.
Sponsored by Neustart Literatur (Fresh Start Literature), a program run by the Deutscher Literaturfonds (German Literature Fund) under the aegis of Neustart Kultur (Fresh Start Culture).
Tickets: 8 euros/6 euros (discount rate). Lyrik Kabinett members receive free admission. For more information, please visit the Lyrik Kabinett website. The event will be held in German.
LMU and the Lyrik Kabinett have worked together very intensively for over 30 years. The more than 70,000 works subsumed under the Lyrik Kabinett Foundation are available via OPAC to everyone related to LMU. Numerous events provide a fascinating insight into the current poetic landscape.