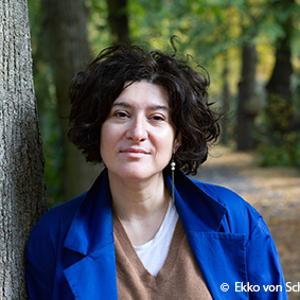 "Come, the hour is late, let us sleep. /To the left, to the right of us / The candles have burned down / On the neighboring graves."
The verses of Maria Stepanova, a "world-class poet" in the words of Maike Albath, caress the skin but also seep in through its pores, exploring the world of the living, the dead and everything in between. This year, the internationally celebrated Russian poet was presented with the Leipzig Book Prize for European Understanding. Her new book Winterpoem 20/21 (Winter Poem 20/21) was published in the spring. Like Der Körper kehrt wieder (The Body Returns; 2020) and Mädchen ohne Kleider (Girls Without Dresses; 2022), this volume too has been translated into German by Olga Radetzkaja. Penned during the pandemic, her lyrical deliberations address the issues of torpor and isolation, winter and war, all interwoven in a profoundly moving poem.
Born in Moscow in 1972, Stepanova today lives (in exile) in Germany, is a fellow of the Institute for Advanced Study in Berlin and, in the summer semester of 2023, will be a guest at LMU Munich's Institute of Slavic Philology.
Her translator Olga Radetzkaja, born in Amberg in 1965, has herself won many awards, including the Straelener Translation Prize 2019.
A cooperative venture with LMU's Institute of Slavic Philology and sponsored by Neustart Literatur (Fresh Start Literature), a program run by the Deutscher Literaturfonds (German Literature Fund) under the aegis of Neustart Kultur (Fresh Start Culture).
Tickets: 8 euros/6 euros (discount rate). Lyrik Kabinett members receive free admission. For more information, please visit the Lyrik Kabinett website. The event will be held in German.
LMU and the Lyrik Kabinett have worked together very intensively for over 30 years. The more than 70,000 works subsumed under the Lyrik Kabinett Foundation are available via OPAC to everyone related to LMU. Numerous events provide a fascinating insight into the current poetic landscape.