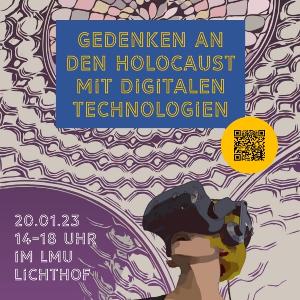 What music was played in the Theresienstadt camp? How did people find food in a Lithuanian ghetto? What was life like in a Jewish children's home in 1941? How could children be born in a concentration camp? And how will we think about these questions in the future? What part do digital media play in this process?
For many years, the LediZ project group (an acronym derived for the German for "Learning with Digital Testimonies") at LMU Munich has concerned itself with the testimonies of Holocaust survivors and new ways of communicating them. Between 2 and 6 pm on 20 January 2023, visitors can gain an insight into the work of the project group. Here in the LMU Munich atrium, there will be an opportunity to join together in remembering the Holocaust – and to share ideas about the future of remembrance in the age of digital transition.
The event is open to everyone.
More information and a detailed agenda are provided in the event flyer.