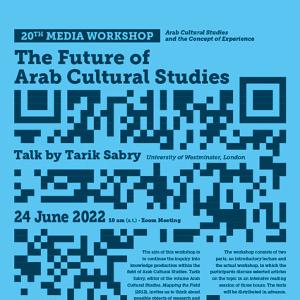 The lecture is part of the 20th Media Workshop at the Institute for Near and Middle East Studies "Arab Cultural Studies and the Concept of Experience".
The aim of this workshop is to continue the inquiry into knowledge production within the field of Arab Cultural Studies. Tarik Sabry, editor of the volume Arab Cultural Studies. Mapping the Field (2012), invites us to think about possible objects of research and practices to be studied in relation to the concept of experience. This also includes a critical reading of British Cultural Studies.
The workshop consists of two parts, an introductory lecture (open to the public) and the actual workshop, in which the participants discuss selected articles on the topic in an intensive reading session of three hours. The texts will be distributed in advance.
You can find more information on the institute's website.