Accolade for Professor Sahana Udupa
2 Feb 2022
Belgium's Francqui Foundation has awarded Sahana Udupa a Francqui Chair.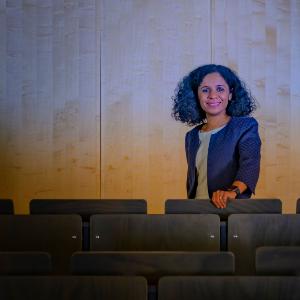 Once a year, the Francqui Foundation, headquartered in Brussels, Belgium, awards endowed chairs to Belgian and European academics. Last October, one of these 'Francqui Chairs' went to LMU Professor Sahana Udupa. The chair is linked to a series of lectures on the subject of "Online Extreme Speech" that Udupa will deliver in spring 2022 at the Katholieke Universiteit Leuven (KU). Her five-lecture series will address the phenomenon of hate cultures in the digital context. The Francqui Chair is endowed with a total of 6,000 euros. For Udupa herself, the award is tremendously important:

"This award recognizes the transformative significance of digital networks and social media cultures in the present day and how what we say and do online have caused turbulence in some of the most stable structures of democracy", says Sahana Udupa. "It is also a recognition that academic inquiry should constantly push the limits of interdisciplinary collaboration to face up to new challenges. I am keen to advance more interdisciplinary collaboration and social engagements in the area of extreme speech research."
Former Belgian Minister of State Lucien Emile Francqui (1863–1935) set up the foundation in 1932 together with US President Herbert Hoover (1874–1964). The goal of the Francqui Foundation is to further the development of basic research in Belgium.
Last year, Professor Udupa drafted a strategy paper for United Nations Peacekeeping concerning the challenges presented by hate speech in the online space. Her paper identified four priority areas for UN entities: tackling global unevenness in online platform governance; connecting critical communities of stakeholders and initiatives that have already taken up the fight against hate speech; monitoring 'gray zones', fringe actors and smaller/domestic platforms; and engaging repressive states to tackle coordinated disinformation and hate campaigns. In January, Udupa presented this strategy paper to the United Nations.