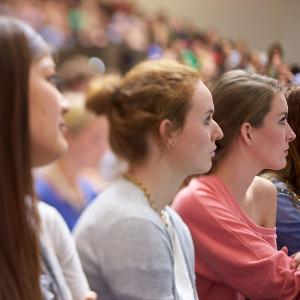 International degree programs
Would you like to study in English? In addition to English-taught master's degree programs, LMU also offers several double degree programs in English, German or French at selected partner universities.
English-taught master's degree programs
No matter whether you come from Germany or abroad, LMU's English-held master's degree programs combine challenging research with professional qualifications — and make you fit for a wide range of international career paths. The prerequisite, of course, is that you can prove you have a very good command of English.
Double degree programs
In these integrated degree programs, you will receive at least two academic degrees — one from LMU and another from one of our partner universities:
Erasmus Mundus
Erasmus Mundus is a European Commission-led cooperation and mobility program, which promotes joint European study programs by means of scholarships offered to students and teachers.
Within the scope of the program, students receive two or more academic degrees from the participating universities.
Currently, LMU Munich is involved in four Erasmus Mundus master's degree programs:
Admission information
The degree programs that offer a double or triple academic degree are usually taught in English, but some are also taught in the local language. Please check the program websites in good time to find out which language skills you will need to demonstrate when applying.
The application procedures vary greatly depending on the program. Applications can be made either centrally through the international consortium or directly through the LMU coordinator. For further details, please refer to the various websites of each program and contact the program coordinators directly.
If you have been selected by your home university for one of the aforementioned programs and wish to study part of the program at LMU, you will find further information on admission to LMU in our application guidelines.