LMUCard
LMUcard for Students (StudentID). The LMUcard is the LMU's multifunctional chip card.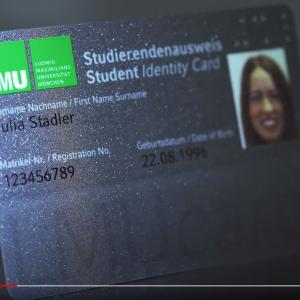 Issuing of the LMUcard
The issuing takes place in two steps:
Online-request
In-person-pickup or via mail to your semester address
Online-request
You can request the LMUcard online on your LMU-Benutzerkonto .
You will have the possibility to upload a photo during the ordering process. Please pay attention to the guidlines for the photo! The guidlines will be listed in the online-ordering process and oriantates itself on the specifications of the Bundesdruckerei (Foto-Mustertafel PDF).
Once the card application has been entered, we will check all data as well as the compliancy to follow the guidelines for the photo (see above).
If you want to check the processing status of your card application, please log into the LMU-Portal with your LMU-User ID and select the link "LMUcard" in your user account. In order to reduce wait times on site we recommend to only pick up your card once the application status is labeled "approved". In principle the LMUcard can be picked up immediately after requesting it.
Personal Pick-up
Terminvereinbarung Persönlicher Support-Termin (wenn AnnyConnect eingebunden ist)
IT-Servicedesk - LMUcard-Kartenstelle
Leopoldstraße 13 - Haus 2 EG Raum 2016
80802 München
Required documents
ID, passport, electronic residence permit or birth certificate
If you would like to use the full functions of the library card, we require a document (German ID card, German electronic residence permit or police address registration) to verify your German residence address.
Mail to your semester address
To protect the employees and student of LMU, the IT-Servicedesk is accessible only after appointment (Link zum annyconnect).
New Students could request a LMUcards to be issued validated via mail to your semester address.
If you have already requested a LMUcard, please abort the request and start over. Chose delivery to semester address in delivery options. Your semester address needs to be a valid german address.
Validiation terminals
Main campus (Stammgelände)
Geschwister-Scholl-Platz 1, Passage E 080A (Passage to the Eulenhof,) (2 devices)
Geschwister-Scholl-Platz 1, Pforte (2 devices)
Leopoldstr. 13, House 2 (In the entrance hall, across the new LMU-IT-Servicedesk, left next to the library) (5 devices)
Leopoldstr. 13, House 3 (LMU-Copy-Shop) (1 device)
Leopoldstr. 13a, Info-Point of Stundentwerk at the Mensa (1 device, please note the opening hours)
Leopoldstr. 30 (foyer left below the Infoscreen) (1 device)
Ludwigstr. 16, Bayerische Staatsbibliothek (1 device)
Ludwigstr. 25, Philologicum (1 device)
Ludwigstr. 27, Ausleihhalle der Zentralbibliothek (1 device)
Ludwigstr. 28, Rückgebäude (In der entrance hall) (2 devices)
Oettingenstraße 67, Foyer (2 devices)
Schellingstraße 3 (1 device)
Theresienstraße 39 (2 Geräte)
Downtown campus
Campus Martinsried / Großhadern
Veterinary medicine campus Oberschleißheim
Sonnenstraße 16a (2 devices)
Data protection information