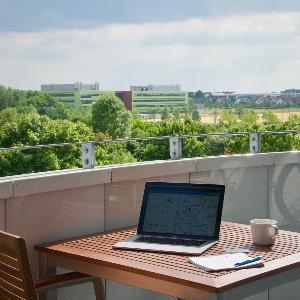 Online study programs
An "introduction to the practice of education," the "basics of marketing," and a "guide to the application of medical diagnostics" — these are only some of the subjects covered by LMU's online study program.
Services for LMU employees
Change content
The Unit for eUniversity Concepts and Services is part of the Central University Administration. It provides technical guidance and logistical support for LMU employees who wish to make use of digital media and innovative technologies in the context of research and teaching.
Our Service Portfolio provides individual guidance on the conception, production and distribution of digital content, and advice on how to apply for funding of digital learning projects, which is available from the initiative Virtuelle Hochschule Bayern (vhb)."
With the learning management system "Moodle," we offer a flexible platform that provides for online extensions of in-person teaching formats, and allows for the implementation of virtual teaching and learning scenarios.
Furthermore, we are ready to assist in all matters relating to the production and publication of e-lectures, podcasts, trailers and much more. The necessary equipment (camera sets and accessories), together with our web-based Video-Management Tool "LMUcast," is available on loan. Products created with the aid of these tools can be made available on your own website and on "iTunes U."
In addition to these services, we have developed a varied selection of Training and Coaching Programs, and we would be happy to advise you in developing tailor-made solutions for your individual needs.
The UnterrichtsMitschau initiative was developed by the Faculty of Psychology and Education, and encompasses a number of services and collaborative digital formats. These range from recorded lectures and documentation containing course content and research data to the production of e-tutorials and the preparation and presentation of training courses. LMU employees as well as external institutions, are invited to get in touch with the relevant advisor for further information.