General Terms and Conditions
I. Job forum
Formats
To post your job ad please use our portal for employers.
Publication and running time of ads
We reserve the right to verify the content of your offer.
Individual ads will remain active on the internet for eight weeks. Permanent ads will remain active for 12 months. The length of time for which your ad remains visible on the university notice boards depends on the number of incoming notices and ads. Further, an overview of all ads on our website is printed once a week and pinned up on our notice boards.
Your right of cancelation
You may cancel your order within 14 days of placing the booking. However, please note that this right expires immediately once your ad is published.
Cost and invoicing
We will send you an invoice for your order to be transferred via bank transaction.
New: You are welcome to use our new ePayBayern system for payment as an alternative to bank transfer. You can pay there via credit card, debit card or PayPal.
Please note that we only accept the direct contract partner as billing address. We won't send invoices to third parties regardless of the content of the ad.
Our job board reaches the more than 50,000 students of LMU as well as students of other Munich universities. The job board generates several thousand clicks per day. Nevertheless, like any other job portal, we cannot guarantee whether and how many applications will be received in response to an advertisement. The LMU Career Service has no influence whatsoever on the students' decision whether or not to apply for a job. This is especially true in light of the current situation on the German academic labor market, which is extremely demand-dominated and determined by the shortage of skilled workers and demographics.
Premium ads and dedicated pages on the Career Community
Showcase your company by writing a short description or creating an image ad which we then publish on our Career Community platform for 12 months. This service also allows you to add up to 10 individual job postings per semester and participate in our career events. For more information on our premium services, please see here.
II. Career Community platform and events
Scope of application:
For all companies who are members of the Career Community and bookings / participation in all events.
Responsible body and organizer:
The Career Service of Ludwig-Maximilians-Universität München, Referat III.7, Ludwigstraße 27/2nd Floor, 80539 Munich is responsible for these events and the organizer of the events.
Booking process
· The scope of services booked is detailed on our employer services page.
· To inquire about bookings, send an e-mail to our employer services.
· You will then receive a quote which you can accept in writing (via e-mail).
Your right of cancelation:
You may cancel your order within 14 days of confirmation. This right expires immediately as soon as you accept the respective service(s).
Payment terms:
Payment is due 30 days after receipt of the invoice or, in exceptional cases, in accordance with another written agreement. LMU Munich shall begin with the implementation of the contractually agreed services after receipt of payment. LMU Munich bears no responsibility for any consequences of late or delayed payment.
All prices are net prices plus VAT. The invoice amount is due without deductions.
If payment is not made on time after the first reminder, any discounts and reductions granted will be forfeited. If payment is not made on time even after the second reminder, LMU Munich may withdraw from the contract. A compensation payment in the amount of the agreed booking price will apply.
Conduct at our events:
The company complies with the applicable safety and fire protection regulations of the organizer and behaves in such a way that a safe and orderly course of the event is possible.
Any furniture provided to the company free of charge by the organizer must be treated with due care.
The instructions of the organizer must be followed; in the event of gross breaches of security, the organizer may exclude companies from participation.
All events are events of LMU Munich. LMU Munich is solely responsible for organization and scheduling.
Force majeure - cancellation of events
If events have to be cancelled due to force majeure (e.g. due to official requirements), we will work with you to find an appropriate alternative for your event / your participation in an event, e.g. by rescheduling and/or changing to a different (online) format. Therefore, there is no fundamental claim for reimbursement of amounts already paid.
Note on photo and video recordings:
The organizer may make photo and video recordings of the events. By participating as a company partner, you agree that we may use these recordings free of charge, in full, and for an unlimited period of time, e.g., for the purpose of advertising our events.
Jurisdiction and law:
The place of jurisdiction is Munich. German law applies.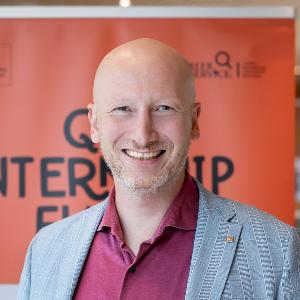 Dr. phil. Stephan Pflaum
LMU's Career Services
Manager Career Events & Services / Employer Services