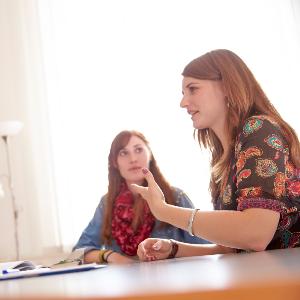 The Central Student Advisory Office: our team
Our team is here for you to help you with any questions you might have and offers a wide variety of information and support services. Please use our contact form for any email inquiries about studying at LMU. Alternatively you can visit our help desk or get in touch via phone or chat.
Management Team
Head of Unit
Christiane Mateus Brinck, M.A.
Central Student Advisory Office
Head of Unit. III.1
Dr. Markus Hünemörder
Central Student Advisory Office
Deputy Head of Unit III.1; Student Advisory Services
Office Management
Martina Hack
Central Student Advisory Office
RHSin Marion Rank
Central Student Advisory Office
Study Information Service (SIS)
Dipl.-Soz. Sofie Schalkhaußer
Central Student Advisory Office
Head of SIS (Study Information Service); Student Advisory Services
Dr. Vanda Vitti
Central Student Advisory Office
Head of SIS (Study Information Service); Student Advisory Services
Silke Ait Ouhamou
Central Student Advisory Office
SIS Office