Housing
Munich is (deservedly!) a very popular place to live. A range of housing options is available to international students.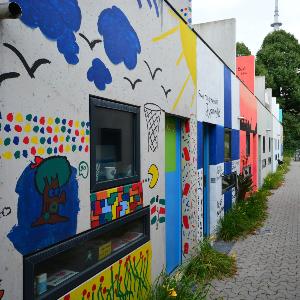 Finding housing can be particularly challenging at the beginning of the winter semester during the months of September, October, and November — so start your hunt early! Unless you are an exchange student, you'll be in charge of finding your home in Munich — but if you take a few key steps, you should be happily settled soon.
The majority of the approximately 100,000 students in Munich live in private rooms, shared apartments, or single apartments. Only about 13% of students actually live in university housing, which is mostly managed by Munich Student Union (Studentenwerk München).
The average rent for rooms on the private market is about 400 euros per calendar month. Rooms in shared apartments and single apartments cost between 400 euros and 650 euros, depending on the location and facilities. Rooms in student housing can cost between 270 euros and 350 euros. Just like in many big cities, please beware of potential fraud! Never transfer deposits or rental payments in advance of arriving in Munich unless you are absolutely sure that the room for rent really exists, and never send copies of your ID by email. In case of doubt, please contact housing-incoming@lmu.de.
University housing
Munich Student Union (Studentenwerk München) offers limited university housing in furnished rooms. You will generally be accommodated in a single room with shared kitchen and sometimes shared bathroom facilities. A limited number of all-inclusive apartments are available.
You'll sign the rental agreement upon your arrival in Munich. Rent is usually debited directly from a German bank account, so once you arrive in Munich, one of your first tasks next to registering your address will be to open a bank account.
Important info

Housing for the winter semester must, as a rule, be rented for the exact period stated in the rental agreement.
Munich Student Union will notify you about whether your housing application was successful or not by mid-July for the winter semester and by the end of January for the summer semester.
If you receive a positive reply from the International Office, Munich Student Union will send you an email with the details of your new home. A document called an Annahmeerklärung (notification of acceptance) will be attached to this email. You should sign and send this document back to Munich Student Union without delay to secure your spot.
If you don't manage to get university housing, don't worry! There are lots of online resources to find private housing as well as advisors from Munich Student Union who can help you in person.
Please note that Munich Student Union cannot take special requests for rooms (single, private bathroom, etc.) so it's up to you to decide if the room is a good fit. If you don't like your assigned room, your next step is to inform the International Office and look for private housing.
Private housing
Munich Student Union (Studentenwerk München) is your contact for all questions about living in Munich even if you don't apply for university housing. The Munich Student Union website describes the process and available support for your off-campus housing hunt.
As soon as you set up a username through the Munich Student Union website, you'll have access to online offers as well as advice through the Housing Referral Service (also called Accommodation Advice Service). You'll also receive additional offline lists detailing other options for things like short-term housing. In other words, you'll lead the search, but you're not alone!
Tips for your apartment search
We've seen lots of international students find great places to live in Munich — and offer the following advice:
Yes, it's true! Newspapers in Munich still offer the best advertisement listings for apartments. If you're buying the print edition, you'll want to get it the evening before it officially appears, and call advertisers as soon as possible.
Just like at any other school, bulletin boards at LMU have all sorts of announcements and offers, including ads from people offering rooms or looking for roommates. The student cafeterias and individual institutes all have notice boards.
Get a head start by beginning to look well before courses begin so that you'll be ahead of the other students flooding into Munich at the same time.
Advertised prices are usually basic rent, without utilities such as electricity, warm water, etc. This is called Kaltmiete. Rent that includes utilities is called Warmmiete.
Expect to pay a deposit (Kaution) of one to three months basic rent.
Be aware of flats advertised by agents (recognizable by "IMM" or "RDM" in their titles). They charge a commission of up to 2.3 months basic rent.
We strongly caution against agencies that charge an advance or monthly fee claiming they have special listings. They usually just browse the same newspapers you would. If you feel it's worth the extra cost, that's fine, but be informed.
Rooms are sublet either in private homes or as part of what is called a Wohngemeinschaft or "WG," (apartments shared by roommates). Students have often found it useful to form groups and look for a larger place together to form their own WG. You may get connected during one of the welcome events organized by the International Office, via social media or the notice boards, or simply by teaming up for the house hunt.
If you are looking for a whole flat, be aware that apartments don't always have a kitchen built in. Always ask questions to avoid surprises.
If you don't immediately find the perfect place, accept a reasonable offer as a temporary solution, and then keep looking. If you're staying for longer than a year, you'll have the advantage of experience at the next cycle!
Understanding German apartment listings
Know the lingo! Here are some commonly used abbreviations to help you be fluent in German apartment-speak:
5ZKDB: 5 rooms (Zimmer) and kitchen (Küche), hallway (Diele), and bathroom (Bad)
€400+ NK: €400 basic rent plus utilities (Nebenkosten)
EBK: built-in kitchen (Einbauküche)
Zi. i. WG: room in WG (room in apartment share or Wohngemeinschaft)
KM: basic rent (Kaltmiete)
Wfl.: living area in square meters (Wohnfläche)
G-WC: shared toilet in hallway (Gang-WC)
OG: upper floor (Obergeschoss)
TG: underground garage (Tiefgarage)